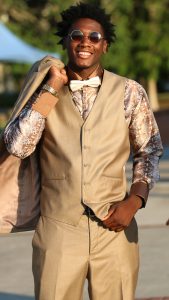 Bernard Gordon has been a loyal member of Pickup the Ball for years.  Rarely does he miss a meeting or an event, and when he does it is usually because he is at work or church.
Not afraid of getting his hands dirty, Bernard currently works for a disaster clean-up company, and recently traveled to Houston to help with the clean up after Hurricane Harvey devastated that area.  We are proud of Bernard for going to where he is needed, even at personal sacrifice.
He also traveled to Haiti with Pickup the Ball in the Summer of 2016.
Bernard is also a talented drummer, and is planning on attending Florida Southwestern State College in the Spring of 2018.  We are glad Bernard will be getting a great education while staying in the area so we can continue to benefit from his participation.