Gerah (Rahrah) Leaphart has been a member of Pickup the Ball from the beginning.  His life has taken many t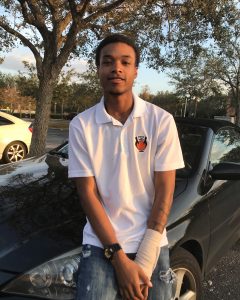 wists and turns, but he has landed in a good place and is headed toward success.
Rahrah has recently been employed by Goodwill, and he plans on attending FSW next year.
In addition, Rahrah has a passion for encouraging other young men who may be struggling and who are looking for some direction in their lives.  He knows his story will give them someone to relate to, and has sought out opportunities to share his story.
Because of this passion, Rahrah has been named the Director of the New Alternatives Outreach program just established by Pickup the Ball.  This program allows us to reach the young men who are detained by the Department of Juvenile Justice to speak with them monthly, encourage them, and connect them when possible when they are released with Pickup the Ball or other organizations that can introduce them to a new and different environment.